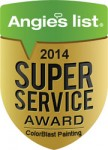 Bay Area Home Interior-Exterior Painting Services
Painters dedicated to phenomenal, professional customer service
Since 2010, ColorBlast Painting has provided excellent service to the Bay Area that stands above the rest. We are a Bay Area painting Contractor that you can trust, not only inside and outside your home, but also around your family and pets. We are proud to be licensed, bonded & insured. We also offer quality painting and workmanship at an affordable price. Based in San Leandro, near Hayward, Castro Valley and Oakland, ColorBlast Painting guarantees to follow all the necessary procedures to insure quality commercial and residential painting projects every time we work. We are clean, fast and efficient, giving you an easy and affordable home or office painting experience every time.
ColorBlast Painting guarantees eco-friendly painting and restoration services with only the highest quality lead-free paints. Learn more about our Bay Area painting company or read our client reviews.
Serving the Oakland, Hayward, Berkeley and Danville East Bay Area's
The ColorBlast painters provide service to the Bay Area, including Oakland, Fremont, Castro Valley, Hayward, San Leandro, San Ramon, Danville, Dublin and Pleasanton. We offer exterior painting, interior painting, cabinet refinishing, power washing paint prep and Molding work. More about our services.
Why ColorBlast Painting? Our mission is to provide a quality paint job to help improve the image of your home or office. We are professional painters who you can trust to provide a hassle-free paint job with excellent long- lasting results. We pride ourselves on excellent communication, responding the best we can to all your wishes. In the end, we want you to be so satisfied with your paint job and the overall experience, that you will refer us to your friends and family. Painting Testimonials.
Qualified Foremen, Journeymen and Painting Apprentices
ColorBlast Painting provides you with a long-lasting paint job by only hiring qualified journeymen painters with at least 6 years of experience and apprentices with at least 2 years of experience. It is with pride and confidence that we can then ensure that the job will be finished properly.
About Our Residential & Commercial Painting Services

ColorBlast Painting offers a 2 year guarantee of quality or a five year guarantee of quality with our premium service options that cover all of our craftsmanship.

We offer all major brands of paint, including green products with no VOC, or Low Voc.

We also use paints that are free of volatile organic compounds that are safe around kids and animals..

Manufacture's lifetime guarantee on select paints.

We also have custom pallets with over 100 different colors in low voc or no odor paints.

We are independently owned and operated with the owner of the company on the job site at least once a day.

We operate in the Tri-valley and East Bay areas.

ColorBlast Painting is licensed, bonded and insured with a $2,000,000 insurance policy.
Residential & Commercial painting for:
Oakland – Castro Valley – Hayward – Bay Area
Exterior – Interior home painting in Berkeley, Pleasanton, Livermore, Danville and San Leandro