Installing and painting molding in Bay Area homes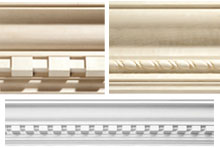 Colorblast Painting offers molding installation and molding painting and staining. Whether it's crown molding, rounded moldings or Dental molding, we can install it right. Chair guard molding, kick-boards and floor moldings are also our specialty.
Little details like interior moldings can make a huge difference in a homes appearance and worth and adding quality interior moldings is an affordable way to add elegance to any Bay Area home. Molding installation is also a great way to hide speaker wire and other low voltage wiring too.
If you already have molding that you like, Colorblast Painting can refinish the moldings and bring back their like-new luster and details.