House and deck power washing (aka Pressure Washing)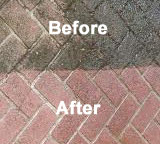 Although Power Washing is not a main part of our business, we do offer the service, particularly to exterior paint clients. We bring a heavyduty pressure washing machine to job sights to clean the exteriors of homes and business, so if you need a deck or driveway done at the same time, we can quote that service too. Or in off seasons, we're happy to come out and do these services as well. So don't hesitate to call and ask.
What is Power washing?
The pressure washer machine is a loud gas powered machine (about as loud as a lawn mower). The pressure washer sprays a high powered stream of water at the house, driveway or deck. The water stream can be mixed with cleaners and the water pressure can be extremely high. High enough to harm a person if one is not careful while its in use.
Tip: If used on a house, pressure washing often leaves windows streaky so it is best to have the windows cleaned after the house is pressure washed (and painted) and not just prior