Interior Painting Tips: How to Paint Your Home Like a Professional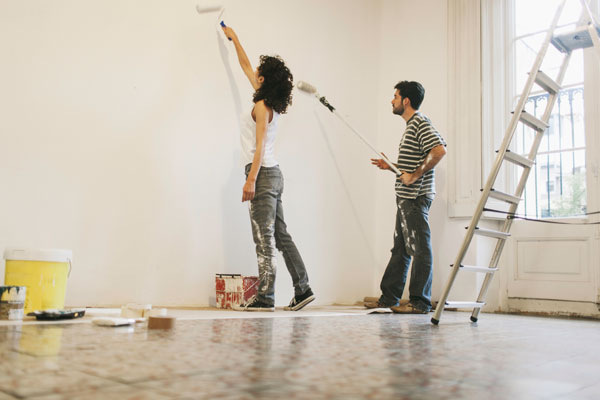 Perhaps you're searching for interior painting tips because you're expecting a new delivery, and you want to repaint the baby's room in time. Or maybe you are hoping to spruce up your home before putting it on the market. In either case, here are some professional grade tips to handle this project.
1. Get high quality painting tools and equipment.
Commercial painting professionals do not use $3 brushes and dirt-cheap rollers that promise uneven coating. Invest in appropriate brushes, covers, tape, tarps and other equipment to get the job done right. If you're doing the interior by yourself, you're already saving substantial money over hiring a professional painter. So why not reinvest some of that into getting the right equipment?
2. Do thorough preparation.
Be patient, and prep the room for the job. Tape up light switches and outlet covers, sand and prime the walls, and move furniture out of rooms that need to be painted. Use drop cloths to protect the floor and the walls and sandwich bags to protect doorknobs. Wait for the right weather conditions. If you paint on a rainy day, the paint may drip or dry too slowly, leading to uneven patches.
3. Paint like a professional.
Home painting pros paint from top to bottom, starting from the ceiling and working their way down. This makes intuitive sense. Drops or uneven areas can later be redone easily. However, if you go from bottom to top, you'll be more likely to create splotches which are more difficult to fix.
Dress for the part (with old/stained clothes), wear eye protection, and ventilate the area, so that the paint fumes won't make you or anyone in the house sick.
Too busy to paint your entire home? Call the Colorblast Painting team for help!
Contact Colorblast Painting for insight and help with your home painting project. The Colorblast team would love to learn more about your home decorating plans and help you achieve your goals in a simple, cost effective way. We've worked with endless paint finish options and color combinations in homes all over the Bay Area and we can help you update the aesthetics of your family's favorite rooms. Call (510) 827-9763 or fill out our online contact form to set up a consultation!